Featured Discussions
Please use tab to navigate through video controls.
Upon entering the player press space bar to reach the play button
Architecture as Texts
How are topics of diversity, equity or inclusion in architecture relevant? Inceptions of public housing in Chicago highlight buildings and urban spaces as cultural hegemony relative to racism and political...Read more
---
Representations of Disabilities
This webinar introduces how civic media as an inclusive practice supports people with disabilities. The four panelists discuss how their work advanced the media representations of people with disabilities: Dean Strauss (Civic Media 2020), Marley Molkentin (Civic Media 2021), Kennedy Healy, founder of Crip Crap; and black filmmaker and artist Justin Cooper.
Mikki Kendall Hood Feminism
Mikki Kendall and Columbia College Chicago's Associate Professor Raquel L. Monroe, Ph.D. will delve into Kendall's book Hood Feminism: Notes from the Women that a Movement Forgot. Mikki will share her ideas on resisting isolation as a critically engaged writer and artist involved in social movements. How creatives can work in collaboration with organizations to address issues like gun violence and hunger through the lens of hood feminism will also be discussed. https://mikkikendall.com/ This video is available for 90 days to the public Feb17, 2022. If you are a Columbia instructor you can access this video for your class by contacting community@colum.edu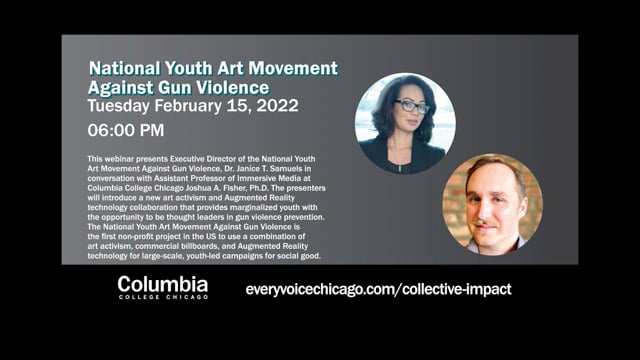 National Youth Art Movement Against Gun Violence
This webinar presents Executive Director of the National Youth Art Movement Against Gun Violence Dr. Janíce T. Samuels in conversation with Assistant Professor of Immersive Media at Columbia College Chicago Joshua A. Fisher, Ph.D. The presenters will introduce a new art activism and Augmented Reality technology collaboration that provides marginalized youth with the opportunity to be thought leaders in gun violence prevention. The National Youth Art Movement Against Gun Violence is the first non-profit project in the US to use a combination of art activism, commercial billboards, and Augmented Reality technology for large-scale, youth-led campaigns for social good. NYAM Website: https://www.nationalyouthartmovement.org/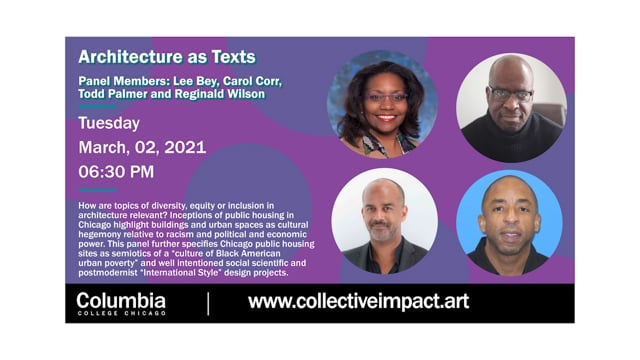 How are topics of diversity, equity or inclusion in architecture relevant? Inceptions of public housing in Chicago highlight buildings and urban spaces as cultural hegemony relative to racism and political and economic power. This panel further specifies Chicago public housing sites as semiotics of a "culture of Black American urban poverty" and well intentioned social scientific and postmodernist "International Style" design projects. Yet another example of architecture as text considers silenced histories of cities and urban landscapes.